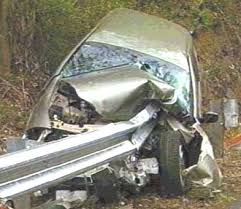 I knew I should have stayed in bed this morning. Knew it, knew it, knew it. Bad enough that I was heading for a smear (sorry guys!) but on the way the clutch went in my car. Not too bad, so far; one is a fact of life and the other I knew was inevitable as the clutch had been playing up for a little while.

What clinched that feel good factor for me was that, despite the fact I had managed to get off the main road without a major accident as my clutch was going, when I was in the process of parking the feckin thing went completely. It snapped, causing the car to jerk forward into a bollard. Bloody lovely, so now I have a car that doesn't work, with a great big dent in it and I still had to get to the doctors!!!

I won't even bother with the details of how the doctors visit or the subsequent hours went, needless to say, I am now sitting with a cigarette in one hand and a glass of wine in the other! Hope your day was better!

Technorati Tags: Clutch Car Crash
Photo: (c) www.car-accidents.com