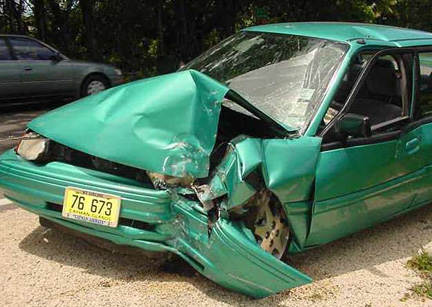 Having spoken to a number of people about how silly I felt for failing to stop my car jerking forward when the clutch cable snapped as discussed in my previous post "
Clutch, Clutch, Clutch!
" several mentioned the disasters that had befallen them whilst learning to drive:
One had driven four miles with the handbrake on

Another had pulled off and driven up a main street with the bumper from the car behind attached to their towbar

Someone else had narrowly missed hitting a petrol pump

Finally one person said they drove five miles extra every day because they couldn't reverse and so had to go a circuitous route to get home.
So, thought I put the question out there, what is your story from when you were learning to drive? Do you have any funny incidents that happened to you in your learner days? (or even when your learner days were officially over!)
Photo: (c) www.car-accidents.com
P.S.: To anyone who logs on regularly (thanks, money is in the post to you two or three!) I will get around to giving my tuppence worth about the deep and meaningful topics I aspired to last week but right now to be honest I couldn't be a***d thinking that much!